LIKMOSS, is one of the last MEN standing. A lot of entertainers may get ya attention with antics, Moss prefers to get it and keep it with pure lyricism and bars that resonate with the streets, for those in the past, present and the survivors.
Likmoss has shown his versatility on tracks with artist such as OT The Real, Young Chris (formerly of State Property), a few New York natives such as Shoota 93, China Mac, Talkit Trigga, to name a few, not to mention the music he has with OBH members such as Pretty Flock, Breeze Begets, Razor, Newz, and Ar-Ab etc. Tap in with the Sturdy and Solid.
Likmoss partnered with a talented group of Industry Producers Known as "Crew" to create his most polished project to date. "Good Book" This project is a sort of manual for the Sturdy to follow. Dealing with the remnants of the Public trial of OBH Records Moss was left to change the trajectory for the company. First he had to restore the honor and now it's all music and content.  Moss's previous project #OUTTAHIBERNATION was released straight to consumer exclusively on likmoss.com in order to wet the appetite of the die hard supporters while maximizing earning potential during this turbulent time. It has since been made available on all streaming platforms #FREEDAMEN
Press photos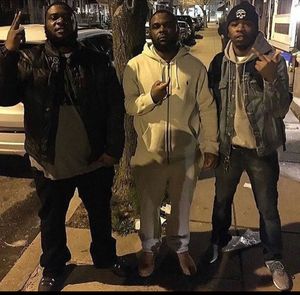 The Philadelphia and New York City emcees combined forces on a collaboration titled "Hard Way" that will feed your mind as they trade verses about the harsh realities of urban communities within America.